Wai-Yew Lam
President
Bankers Exchange Services (925) 212-1727
Wai-Yew Lam, has over 15 years of experience working in the real estate industry, Mr. Lam has structured in excess of 4,500 exchanges ranging from Delayed, Reverse, Construction, Personal and Business exchange. He is especially knowledgeable in structuring tax-free exchanges, involving complex issues and multiple properties. He is also very good in conducting exchange seminars, at explaining various concepts and makes himself available to anyone with a need to plan an exchange. Mr. Lam has lectured extensively on the subject of 1031 tax-free exchange presenting exchange concepts to professional organization, Boards of Realtors, college, CPAs, TIC companies, title companies, and thousand of individual investors. In addition, Mr. Lam is the founder of Asian Real Estate Association of the East Bay based in Oakland, and a current board member of The Chinese Real Estate Association of America, Inc, based in San Francisco, California, both non-profit organizations serving the real estate and local community in Northern California.
Kenneth Graham
Vice President
1031 Focus Group (800) 536-1031
Kenneth Graham helps average landlords trade their single family rental property for a percentage ownership in one or more institutional quality investment property. These properties are generally class "A", stable income producing properties able to attract tenants with greater financial strength and stability. Mr. Graham is a Financial Advisor, Attorney, and Real Estate Broker, with a detailed understanding of the 1031 exchange process and a wide variety of available options. He holds a Juris Doctorate Degree in law, MBA in Finance/Marketing, Masters degree in Computer Science, Certified Senior Advisor (CSA) designation, and NASD Series 7, 66, and 24 licenses. He is a Registered Representative under and offers securities through Berthel Fisher & Company Financial Services, Inc. "Specializing in Quality 1031 Replacement Properties" 1031 Focus Group provides comprehensive support for real estate investors considering a 1031 exchange, including access to some of the best Tenant in Common (TIC) replacement properties. www.1031FocusGroup.com, 800-536-1031.
John K. Wong
CPA
Wong & Chin, CPAs, An Accountancy Corporation
7011 Koll Center Pkwy, Ste. 220, Pleasanton, CA 94566
Tel: 925-600-0212 Fax: 888-600-2738 http://www.wongchincpa.com
John K Wong, CPA MST, John is an accounting and tax consulting specialist for small businesses and high-income individuals. His services include company start-up analysis, compensation structure comparison, tax planning and preparation, as well as accounting consulting. John holds a master degree in taxation from Golden Gate University. He is a member of California Certified Public Accountants. He worked for State Board of Equalization before joining Chevron Corporation in 1992. He worked as a tax analyst in Corporate Tax Department with Chevron Corporation and has solid experiences in multi-state and consolidated corporation income tax. John's experience over the last 12 years in public accounting has been in a variety of areas such as technology, internet, manufacturing, wholesaling, real estate construction and development, service-oriented industries, and not-for-profit organizations.
Tilton Quon
Team Advantage
Keller Williams Realty (925) 413-2245
Tilton Quon, is a licensed Broker with Keller Williams Realty – Tri Valley and a partner in Team Advantage. I specialize in all forms of residential and income property. Born and raised in the Bay Area, my background includes a BS from Cal Poly, an MBA from Santa Clara University, previous work experience in large corporations such as ATT, IBM and smaller startups such as ROLM, N.E.T. and Equant. I hold real estate designations of CRS., a-Pro. And ABR.. I am also a founding member of the International Luxury Homes Society and the Asian Real Estate Association of the East Bay.
Cherylyn Tamaru
Chase925-202-3038
Been in the Financial industry for 20 years. Currently a Vice President/Area Manager for Chase Home Finance in San Jose and East Bay. Born in Malaysia, I have the advantage of speaking Cantonese, Mandarin, Hokkien, Tai Shan and Malay. Was co-founder, and Past President of the Malaysian Professional and Business Assn, helping bridge business relationships between US and Malaysia, and also helping Americans seeking opportunities to do business in Malaysia, establish contacts and resources. Was also on the Board of Director for the Singapore American Business Assn. Served as Committee chair for events, successfully planning fund raising events for the Association. Keen in serving in Asian communities to build awareness and provide expertise on Real Estate financing to enhance home ownership Chase, 910 East Hamilton Ave, Campbell, CA 95008.
Margaret Lin
Keller Williams Realty (510) 912-1284
Margaret Lin, Owner/Broker, Margaret Lin brings almost 20 years of experience to The Lin & Sadjadi Team. She began her career in the 80s as an assistant to her father and the senior Broker/owner. Although Margaret was the youngest in the office, real estate soon became her passion with her degree in Small Business Management and language abilities in Mandarin and Taiwanese. When Margaret was introduced to the extraordinary Keller Williams Realty's model, her vision of a diverse real estate office with an environment where agents and owners are partners became a reality. Keller Williams' profit sharing model embraces a win-win environment for employees, agents and clients, a vision that Margaret and Reza believe in. The company focuses on servicing the client's AND the agent's needs. Margaret is an enthusiastic learner and consistent producer with a passion to pass on knowledge and experience to others. With her husband Reza, they service clients in the Bay Area at their office based in Berkeley while teaching the principles of wealth building through ownership.
Roddy Cheung
Washington Mutual Home Loans (415) 875-6008
Roddy Cheung is specialized in Home Mortgage. He has been providing services in the Real Estate and Mortgage industry since 1989, and has been a Senior Loan Consultant at Washington Mutual Bank (formerly Home Savings) since 1990. Roddy frequently provides First Time Homebuyer Seminars to different communities. Because of his knowledge, experience, and dedication, he has helped numerous homebuyers to achieve the American Dreams. Roddy is always in the top 10% production team, and has won many awards of being a top producer. He has also earned the honor as a member of his company's Presidents Club repeatedly for 10 years. In addition, Roddy is a member of the Chinese Real Estate American Association, and has served as a broad director and was the CREAA President of 2001 and 2002. Roddy is devoted to continue in promoting home ownerships and to provide his excellent unparalleled service with honesty and integrity. Roddy Cheung, [email protected], Senior Loan Consultant, Washington Mutual Bank, 425 California Street, 2nd Floor, San Francisco, CA 94104, Office: 415-875-6008, Fax: 415-875-6012, www.wamuloans.com/roddy.cheung.
Marilyn He
Bank of America (415) 205-9736
My passion for real estate investment, the dynamic real estate market and the daily opportunities to meet and work with diverse individuals is what keeps me interested in real estate. With over 15 years of banking experience and last 3 years at Bank of America Mortgage as a top 5% producer, my clients can be assured of the very best professional services available. I speak fluently in Cantonese and Mandarin. Bank of America has very competitive pricing and car close quickly. Call me anytime 415-205-9736.
Michael Thomas
Hendrick & Partners (510) 433-1273
Michael Thomas is a market leader in the San Francisco Bay Area Investment Real Estate Market. In Oakland alone he was the #1 broker in the apartment investment market in 2005, brokering the greatest volume of transactions (20 transactions). He specializes in multifamily building sales and has created exceptional results for both Buyers and Sellers alike. Michael graduated from Bucknell University with a degree in Business Management, and attended post- graduate studies in Kunming, China, where he studied Mandarin Chinese. Michael S. Thomas Hendricks & Partners 555 12th Street, Suite 2000 Oakland, CA 94607 510.433.1273 (w) 510.380.4276 (f) 415.860.6241 (c) [email protected] www.hpapts.com.
Darren Huston
Countrywide Home Loans (510) 645-2707
Darren Huston is the Branch Manager of Countrywide Home Loans in Oakland California. In this position, Mr. Huston is directly responsible for the achievement of sales, profitability and day-to-day management goals of the Branch. He provides leadership and direction on the principal that every family in America desiring to achieve the dream of homeownership should have the opportunity to do so while ensuring a convenient and very personalized home loan experience. Darren Huston has more than 16 years of experience in the mortgage and financial industries. He is a licensed real estate sales person and an active member and participant in the following organizations: Associated Real Property Brokers, Oakland Association of Realtors, Berkeley Association of Realtors, Women's Council of Realtors, Oakland Chamber of Commerce, Boys and Girls Club of Oakland. Darren is happily married with three wonderful boys and is an avid golfer and motorcyclist. He earned a Bachelor of Science degree from San Diego State University and a Masters' of Business Administration from the University of Phoenix. Darren Huston, Branch Manager, 1300 Clay Street, Suite 66, Oakland, CA 94612.
Dianne Y. Woon
Waddell & Reed Financial Services (510) 882-9077
Dianne Woon is a Financial Advisor with Waddell & Reed, a national firm founded in 1937 with more than $36 billion dollars under management. Her mission is to assist her clients to build a financial plan that helps them face life changes and future with peace and confidence. Her comprehensive financial planning services include, cash flow and financial position analysis, funding specific accumulation goals, income tax planning, retirement planning, risk management, estate planning with wealth preservation. In an increasingly complex financial world, her keys to success are always keeping her clients needs foremost in her mind and guiding them with a plan. Dianne passed the Certified Financial Planner (CFP) exam in 2004 and she is also a Registered Financial Consultant (RFC). She holds NASD license Series 7 and 66 as well as a California State insurance license. Dianne has been married for more thar 14 years to Jason and her two wonderful children, seven-year-old Ethan and three-year-old Serena. She has lived it Alameda with her family for more than 13 years. She enjoys traveling and reading mystery novels.
Ann Fok
Pacific Sales & Management (510) 763-8600
A successful realtor for over 22 years. Ann Fok is the owner of PACIFIC Sales & Management (property management company) based in Oakland, and manages several investment properties serving Alameda and Contra Costa county. Her company dedicating her manages both Residential and Commercial properties. Ann's passion is to serve the Asian community, efforts to help make the home buying process a simple and easy experience for everyone.
Helen Chin
Real Estate Investor(510) 612-1308
Helen Chin has been servicing the Real Estate Industry for over a dozen years. She was the Account Manager for two branches of LandAmerica Commonwealth Title Company, one on the Lake Merritt and the other in Chinatown Oakland. Her committment in the Real Estate community is to provide a top notch service in title and escrow services. Helen has received Platinum Elite status for superiority in sales from 2001 to 2006.
Mayling Trinh
Prudential California Realty (510) 986-2059
Mayling Trinh, REALTOR@. Born in Cambodia, raised in Paris France, and settled in the sunny Oakland California, Mayling is a successful REALTOR@. She is enthusiastic and passionate in both personal and professional life. She is friendly, knowledgeable and helpful. Her talent showed with awards of Rookie of the Year in her first year in business. She won award of Chairman's Circle Gold in 2005 and continue to be a top producer in the Oakland East Bay Area. She is currently among top 3% of the sales professional in the entire Prudential Realty network. She is fluent in Chinese Cantonese and Mandarin, French and English. Visit her website at: www.MaylingTrinh.com, Mayling Trinh, REALTOR@, Diamond Club Top Performer, Tel: (510) 986-2059, Cell:(510) 928-6168, Fax:(510) 834-3841, [email protected].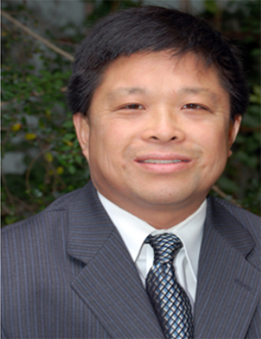 Jeffery P. Woo
Woo & Associates (415) 281-6800
Jeffery Woo is an attorney, Realtor, and principal of Woo & Associates P.C., a real estate litigation law firm specializing in rent and eviction control issues. He has published over a dozen articles on topics related to the San Francisco Rent Ordinance and the Oakland Just Cause for Eviction Ordinance and is a frequent lecturer to the real estate industry. In addition to serving on the Board of AREAEB, he is the 2006 president of the Chinese Real Estate Association of America, director-elect for SFAR, and a 2006 Super Lawyer for Northern California. Jeffery is a graduate the University of Southern California and the University of California at Davis Law School. Further information about his law firm can be found at www.mypropertyrights.com. He can be reached at 415-281-6800 x 308 or at [email protected].